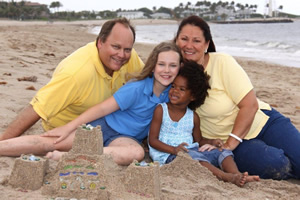 My name is Buddy and I have been married to my wonderful wife Sandi since 1993. Daddy to 2 children – Sarah & Makayla
Favorite Disney Attractions: The Hall of Presidents, Soarin', and The Monsters Inc. Laugh Floor!
Favorite Disney Memories: My wife and I wrapped up a small stuffed Mickey Mouse in a small box and then placed it in 7 other boxes all bigger than the 1st until it was a large box all wrapped up for Christmas! We then gave the box to my, then 6 year old daughter Sarah, and eagerly watched as she began to unwrap each box looking for her pre-Christmas prize! Sarah continued to pull out each consecutive smaller box until she got to the smallest box. It was a lot of fun… and then she opened the last small box to find the stuffed Mickey Mouse! Sarah pulled the Mickey out and gave us a bewildered look and said that this was a toy she already owned. I told her that it was not "THE" gift… but was a clue to the Real Gift! Since she had never been to Disney before, it took a few minutes to sink in… and then it happened…her eyes began to widen and her face expressed the connection to the stuffed Mickey as she exploded with a squeal of delight of "I'm Going To Go To Disney"!!! (I have it on tape and it's still one of my favorite Disney moments, along with when we just recently did the same thing for my 4 year daughter, Makayla… with similar results….. and with the same stuffed Mickey Mouse!
I have been arranging vacations to Walt Disney World, Disneyland, Disney Cruises and Adventures by Disney for the past 12 years, for families all over the globe…. and I look forward to putting you and your family into the "Middle of The Magic" Too!
Contact Info:
Buddy Helland
email: buddy@kingdommagic.com
Toll Free: (866) 972-6244 ext 705
Text/Call Direct (407) 796-2034
---
Testimonials
"Since the first time we met, more than 10 years ago, and no matter the thousands of kilometers between us, we think on you as our Concierte to the Magic, our friend, our pal.
Living so far from the US and speaking a different language did not stop of us of having a friendly relationship.
You were the one who helped us living our best moments and making best memories at our home, our place in the world, Walt Disney World. Many memories come to our mind, first, with my husband, family, and friends in different trips.
Then, with our baby girl and of course wishing a near trip again.
Thanks to you and your worries we could enjoyed Walt Disney World at Orlando, we also could visit Disneyland and the magical and wonderful Disney Cruise.
You were not only the one who helped us with our packages, you were worried about offering season discounts and offers, and as a confidence gesture you placed a reservation at the Disney Cruise when it was completely sold out, when you saw the availability and knew our desire to sail. We were so grateful and happy for your gesture that of course we confirmed it at soon as we received your email. You also helped as with "administrative issues" knowing we live far from US and sometimes don't have the accessibility that american people have.
You also helped as with reservations for La Nouba, Character Meals and all the Magic around Disney.
You are not only our Concierge to the Magic, your are the one of my family and friends when they come to me asking for advice around Disney World.
For more than 10 years, you've been our Concierge to the Magic, friend and member of our family.
We are so grateful for all you've done for us, never, never in all these years and many trips we did we had a minimum problem, never. We know your professionalism and kindness.
Thanks Buddy for being our Concierge to the Magic, of course we count on you for future trips and hope we can continue together sharing Magical Moments.
Regards from your friends of Buenos Aires, Argentina,
Giuliana, Dario & Claudia"
Maria Y.

Hi Buddy! Our vacation was awesome, here are some photos… My son and his fiancé will be getting married next year at Disney World! I may call you with questions!