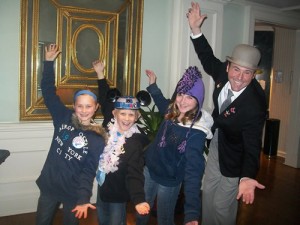 My name is Stephanie Hope Sprenkle. I am the lucky mother of 4 amazing children and avid Disney fans!!
As a Disney College of Knowledge graduate along with various on site training as well I am excited to help start planning your magical vacation! I love sharing my knowledge and expertise with you regarding all Disney destinations. I can help with as little or as much of the planning as you want! From the beginning planning stages to your return I will be your "concierge to the magic". Of course my services are always free of charge as well!
I look forward to helping you make your own magical memories!
Favorite Disney Moment:
If I had to narrow it down I would have to choose my daughters 5th birthday.  The whole day seemed like a celebration.  During the holiday parade from way up high on her float Mrs. Clause pointed my daughter out and wished her a special happy Birthday.  She ate at her favorite restaurant and was treated like a princess and to cap the night off we rented one of the amazing birthday boats to take us around Bay lake.  For the finale while we floated right outside the Magic Kingdom they piped in the Wishes fireworks music as we watched the most beautiful firewaorks show we have ever scene.  My daughter truly believed the show was just for her and her birthday!
Favorite Disney Rides:
Splash Mountain and Soarin'
I can't wait to help you make your own Magical Memories!!
Contact Info:
Hope Sprenkle
email: hope@kingdommagic.com
Toll Free: (866) 972-6244 ext 773