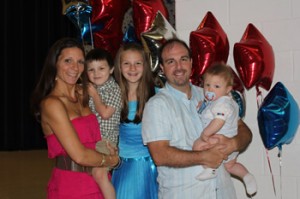 My name is Jennifer Del Greco and I am married to a wonderful man with 3 amazing children. I am your Independent Vacation Specialist with Kingdom Magic Vacations. I am a Graduate of the College of Disney Knowledge and also a Universal Park and Resort Specialist. I am here to plan the most memorable Disney Destination Vacation imaginable and can plan your vacation destination on land or by sea. Whether you are choosing to vacation at Walt Disney World, Disneyland, a Disney Cruise, an Adventures by Disney destination, vacation at Disney's newest location of Aulani in Hawaii, Universal Parks Vacation or a destination cruise, I will take care of all of your park/show tickets, dining reservations, travel and anything else you need to make your trip stress free and extra special. My first love for Disney happened as a little girl. Searching the park for the characters waiting to grab that special hug, especially Mickey that would make my trip the best ever while trying to hold onto every balloon I could without letting them go. I remember one year I saw Sorcerer Mickey across the way. I grabbed my two younger sister's hands and made a run for him with my father saying something in the distance that I needed to grow up. That was the funniest thing I had ever heard seeing as that trip was only 14 years ago! Everyone's a child at Disney whether we believe it or not….we are all kids at heart!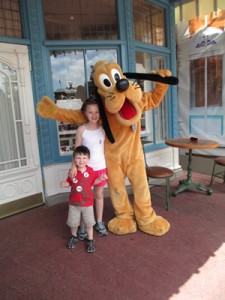 A little bit about me…
I have many years of the "Disney Magic" in my back pocket from being a professional figure skater with Disney on Ice, a Cast Member at one of the Disney Store & Gallery locations and now with Kingdom Magic Vacations! As a family of 5, my husband and I along with our 3 children travel to Disney almost every year. Our most recent family vacation was very eventful and now we re-live those memories usually hearing "when are we going back to "Mickey's house." There is something for every age while you are on Disney property which makes the trip extra magical! If I lived in Florida, I would definitely have the annual pass :o)
My only goal is to help each one of my clients and their family, have the most amazingly
memorable and magical time leaving no stone unturned, as another adventure waits around the corner. I also have to make sure you have a Mickey chocolate ice cream! I am here to answer any of your questions from anywhere in the world so I can help make your families dreams come true! Memories last a lifetime and I look forward to start planning your worry free magical vacation.
Contact Info:
Jennifer Del Greco
email: jennifer@kingdommagic.com
Toll Free: (866) 972-6244 ext 745
Text/Call Direct: (407) 796-1899