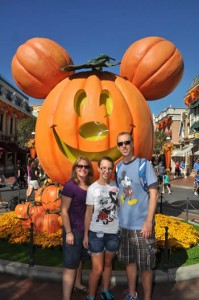 Hi! I'm Sara McCaslin, an independent travel planner and Disney fanatic! My husband and I have one teenage daughter who has grown up loving Disney and experiencing many awesome adventures. We take a yearly vacation to Walt Disney World, but have also had wonderful times at Disneyland, on the Disney Cruise, and at Disneyland Paris.
The excitement is overwhelming. I find it hard to sleep the night before we leave for a Disney vacation thinking of all the wonderful things we'll see and do. When we enter Magic Kingdom we first walk below the Walt Disney World Railroad. We then walk up Main Street USA toward Cinderella Castle and I always get a lump in the throat. I can't help myself! There is just something about being at the Happiest Place on Earth with my family.
Sara McCaslinDon't let my love of Disney fool you. I am able to help you plan many types of vacations including cruises, Universal Studios, Sandals & Beaches Resorts.
My goal is to help families, couples, and individuals plan their dream vacation. Your vacation is important to me. It may be a once in a lifetime vacation or you may be a frequent traveler. Either way I will give each client personal time and attention to ensure an enjoyable and memorable trip.
Contact Info:
Sara McCaslin
email: sara@kingdommagic.com
Toll Free: (866) 972-6244 ext 742
Text/Call Direct: (407) 308-0193